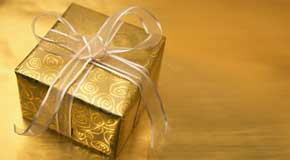 'Tis the season for gifts, holiday parties, being merry and social media. Wait…say what? Since when did social media fit into the whole deck-the-halls-Christmas-season thing? We think it fits into any time of the year, but it's especially apropos right now, as 2012 is quickly coming to an end and a whole new year is on the horizon. The time to do a year-end wrap-up of what went well in your social media sphere and look to 2013 planning has never been better. So, pour yourself some more egg nog and settle in for our 2012 Social Media Wrap-Up.
What to Avoid
Not being involved. You've no doubt heard and seen tons of stats about the number of people who use social media—namely, Facebook and Twitter—everyday. But did you know that nearly two thirds of small businesses (66 percent) spent more on social media marketing this year than they did last year? And, those who increased their social media budgets in 2012 is four times higher than the proportion of those who decreased it (http://www.verticalresponse.com/about/press/small-business-social-media-survey-results-infographic). So, with that said, if you are a small business and you're not using social media as part of your marketing plan, you are behind the times, friend.
Thinking number of likes is king. We all want to be popular and have lots of people liking us. But in terms of social media, the number of likes your Facebook profile or the number of followers you have on Twitter is not nearly as important as how engaged those people are. You could have 1 million likes, but if you only get responses, messages, etc. from, say, 115 folks on a regular basis, that 1 million number doesn't mean as much.
Hanging out with people with similar interests. This is a false sense of security. Don't spend too much time engaging your peers because when you do, your customers will get overlooked. The business of being social is all about finding prospects who turn into business (read: cash) for your company. Network and brainstorm with those who share similar goals but find prospects in areas where you're not so comfortable: join online forums, answer questions on LinkedIn, host free webinars and write a post on articles where C-level executives are likely to be found (Harvard Business Review, Wall Street Journal, etc.).
Facebook Tips
According to a survey from Lab42 (http://blog.lab42.com/), 87 percent of Facebook users "like" brands, and 50 percent of those say a brand's Facebook is generally more helpful than its website. Here are some key takeaways for your brand's Facebook page:
Interact and engage. It's called "social" media for a reason. Be social! Answer questions posted on your page, and likewise, ask questions on your page. Get to know your audience better. Don't be one of those brands that 35 percent of people say don't listen to them.
Vary your posts. Using only text is fine from time to time; other times, mix in relevant photos, videos, links, polls and coupons. The biggest motivator for people liking a brand is promotions and discounts. So, every once in a while, give people an incentive!
Don't post too often. It's a delicate balancing act. You have tons of stuff you want to say, but too many posts can be a turnoff. In fact, 47 percent of people (according to that same Lab 42 survey) unlike a brand because their too-frequent posts cluttered their news feed. Use Facebook a few times a week to communicate your message and interact with your users. Twitter, to be discussed, can and should be used multiple times a day.
Twitter Tips
Let the hashtag be your friend. Familiarize yourself with the # symbol. And then begin using it before a keyword or your URL. Twitter than converts it into a searchable term (meaning, anyone on Twitter looking, for say, #realestate, will come across your Tweet if you use that same hashtag). This ups your chances of being found.
Respond. Again, it's "social" media, so when someone asks a question to your Twitter feed, be social and respond.
Update your profile. This is an extension of your brand. Be sure your profile picture and bio are current.
What to Tweet? When you're not sure what to share, here are some of our favorites:

An interesting article relevant to your business
A link to your latest blog entry
Useful tips for people using your product or service
Interesting info about your staff members
Ask your followers a question
Announce a contest or discount
Links to the websites of companies you work with
Real-time updates of what you're working on
How to Keep Up with It All
Create a social media calendar. It may sound trite, but really putting what you want to post onto a calendar keeps you accountable for doing it and organized in the process. It also allows you to see the types of posts you're planning for the day/week/month. You don't want to self promote all the time. A good rule of thumb is one sales pitch for every three non-sales pitches. Having your posts on paper (or digitally) helps to keep you from hawing your business too much.
Discover and curate content in real time. Use social tools that scour everything happening on the web and send your relevant stories. You don't have time to do this yourself, so put services like Bottlenose.com (ßlink to , Alternion.com, Socialbuzz.com and Rt.ly to use to help you.
Let others toot your horn. Take care of people and then let those with clout and influence—like bloggers, Tweeters, etc.—tell your story for you. Give people what they want, and you'll get what you want.
And there you have it—a brief recap of what we think is most important to know about social media as we end 2012. We hope this information is helpful, insightful and, if nothing else, provided a five-minute respite to your busy day.  Thanks for reading.  'Til next time. . .Merry Christmas and Happy Holidays!