We carefully design and develop custom, unique WordPress websites to fit your individual needs.
---
Thrive Creative Group, LLC is a multi-award winning Custom Website Design and WordPress Development company in Middle Tennessee.
---
Our team prides itself in taking the time and care into custom website designs that set our clients apart from competitors. Not only will we provide a stunning front-end design, but we also build websites with a framework that guides the user through the website. A custom-built website is meant to make your life easier, hence a solid foundation for an online presence starts here.
Our goal is to create a website that represents your business in a professional way because your website is always communicating for you. 
---
Website Design Process
We provide quality service during each phase of the process.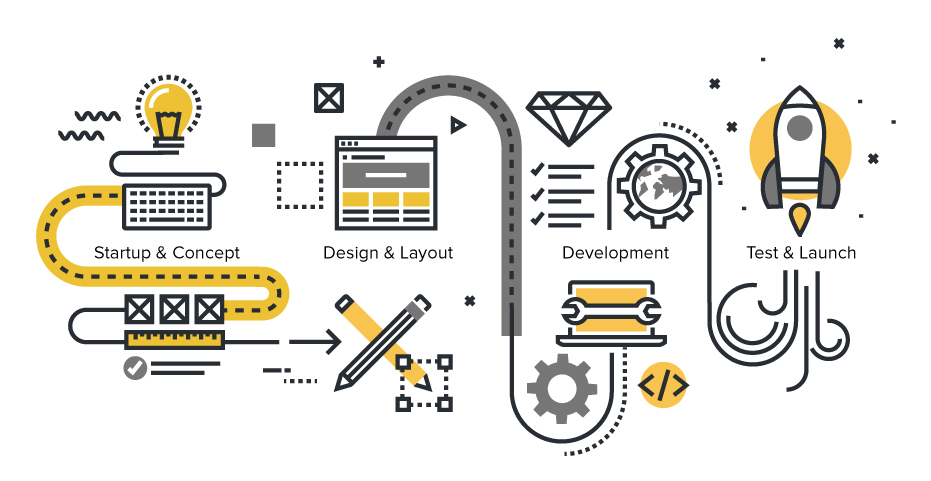 Startup & Concept
First, we will start with a conversation about your goals, audience, along with other needs – then our team will complete internal research.
Design & Layout
We will then share our vision for your project and reviewing it with you to make sure we are on the right track. Next, our team will dive into home and interior page website designs for your custom project.
Content Strategy
Whether we assist you with content writing or you prepare your website content yourself, our team will work with you to organize all of the items needed for your new website.
Development
Once we have an approved website design, the programming process is underway. Our team hand codes your new custom website.
Optimization
During this phase, our team places your website content, adds in your images, and perfects your website for Search Engine standards.
Test & Launch
Now that the building of your website is complete, we will share your test link with you for review. Our team will make any needed modifications and add the finishing touches –  with your final approval, your new site will go live!
---
We take pride in building websites with high standards.
As a result, we ensure that your website code is validated with W3C standards and using CSS3 and HTML5. Your website will comply with the standards accepted by most web designers. As a result, your website will be accessible to more people, across more web browsers and operating systems. Having an accessible responsive validated website with the most up to date code practices is what Google loves!
Yes… Your Website Will Be Responsive!
Responsive website development is an absolute must. Our talented developers will work hard to ensure your new website looks and functions well on all mobile phones, tablets, and computers!
You have likely heard that just having a 'mobile website' is old news. Mobile websites were designed specifically for mobile devices (not any device) and appeared as a simplified version of a desktop website. A mobile website would often include a link to the full version of a website so that viewers can find the remaining information that was not included in the mobile website, but it was likely that the full version did not display properly on a mobile device – requiring lots of pinching & zooming. Mobile websites were built in a way that they were are completely separate from a desktop version.
Mobile is out & Responsive is in!
Responsive websites look great and appear consistent on all devices. A responsive design adjusts accordingly for the screen size your visitor is using. Furthermore, this means whether your visitors are on a mobile phone, tablet, or desktop computer, your site will maintain a look that is clean, easy to follow, and functions properly. A responsive website is necessary for SEO as search engines are only indexing one version of your website. As well as a responsive website increases site usability, it decreases bounce rates and omits duplicate site content by not needing to maintain a separate mobile website.
Whew… with all of this said, we offer a variety of services related to web design, web development, and web maintenance (we even offer hosting plans as well). Website features and services we provide with each new website include:
Domain Registry
Hosting Setup
Sitemap or Information Architecture
Custom Design & Layout
Responsive Website Programming
Custom HTML5, CCS3, PHP & WordPress Development
Website Database Establishment
Interactive Custom Forms
Content Management System (CMS) powered by WordPress
Meta Description and Google Crawl Request
Temporary Splash Page
Search Engine Optimization (SEO) Setup
Blog Development Integration
Usability Testing
Google Analytics Reporting
1 hour of WordPress training
Web hosting
Additional services offered:
Interactive Design
Video Integration
Content Writing Services
Photo Gallery Systems
Staff Directory
Calendar and Event Scheduling Systems
Intranets and Private Logins
Spring cleaning on your code
Website Maintenance
Email/Newsletter Systems
Photography Consulting
Advanced Search Engine Optimization (SEO)
Facebook, Twitter, or Instagram Setup, Design, and Configuration
We are a professional web design & development company that has a long successful client list of small business, nonprofits, government entities, and more that we have helped on and offline with their marketing needs. Our website development is custom, creative, and engages the client's goals while increasing their bottom line. So let's get started on your new website, or re-design the one you have!
Above all, Thrive Creative Group specializes in helping businesses grow by enhancing their online presence through detailed planning and proper execution of a new, custom-built website.
---
Call 931-221-4991 to request more information or get started here »
---