Thrive Creative Group was pleased to earn a 2017 Aster Award for top Medical Practice/Physician Group Website.
The design created for Premier Medical Group (premiermed.com) has just been honored with this prestigious award. The Premier Medical Group website was reviewed by a panel of industry experts and are scored on multiple criteria with a possibility of 100 total points.  Premiermed.com earned between 85 and 89 points, garnering it a Bronze Award and placing it in the top 16% of websites nationwide.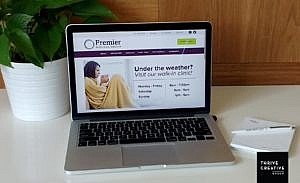 The Aster Awards, one of the largest national competitions of its kind, is hosted by Marketing Healthcare Today Magazine and Creative Images, Inc. This elite program recognized outstanding healthcare professionals for excellence in their advertising/marketing efforts for the calendar year 2016.
The 2017 Aster Awards received nearly 3,000 entries from across the United States as well as several foreign countries.  
All entries are reviewed by a panel of industry experts and are scored on multiple criteria with a possibility of 100 total points. Participant's entries competed against similar-sized organizations in their specific groups and categories.
Awards were issued for entries that received top marks from judges placing them in the top 16% of the nation for advertising excellence. Judging criteria included creativity, layout and design, functionality, message effectiveness, production quality and overall appeal.
"It's exciting to see how the quality and creativity of the work submitted increases each year. The 2017 Aster Awards program brought together some of the best and most creative advertising in the world," said Melinda Lucas, Aster Awards Program Coordinator.

All winners are currently posted on the Aster Awards website (www.AsterAwards.com), as well as published in Marketing Healthcare Today, a national healthcare marketing magazine.
Premier Chief Administrator Dr. Mike Carrigan said, "We are more than pleased with our new website. Our goal was to have a resource for patients that gave them easy access to online tools and information about their providers. With growing traffic month over month, we're finding that it provides them with significant access to Premier Medical Group. The team at Thrive Creative Group hits the mark for us every time."
Thrive Creative Group is a Clarksville, TN based award-winning creative firm specializing in responsive WordPress website development, graphic design, and marketing. To learn more about Thrive Creative Group, visit thrivewebsupport.com/thinkthrive.