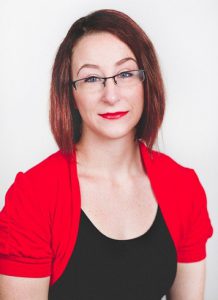 Carolyn is a Manager of the Web Creative Team, specializing in UI/UX Design & Front End Development. She is a graduate of Austin Peay State University with a BFA in Graphic Design / Visual Communication. She is certified by the W3C in HTML and CSS.
What does all this mumbo-jumbo mean?
Carolyn is an adaptable user-centered designer who understands workflow, interaction design, and usability. She is prepared to solve the challenges of information organization with an adaptive range of skills, including: visual design, prototyping, wire-frames, CSS3, HTML5, jQuery, WordPress, and good ol' fashioned marketing and branding. Carolyn is known as a design and developer hybrid, which is to say, she has skills in digital design and in web programming. This means she can not only design, but also build!
"How will your audience interact with this?"
Carolyn has experience working with design firms big and small. She got her start right out of college with Thrive Creative Group. After several years she moved back to the Pacific Northwest and worked for design firms in the Seattle area. Carolyn is thrilled to be bringing her outside experience back to Thrive, where she started.
According to Carolyn, "Working at Thrive is enjoyable not only because of our talented team, but also because of the work I get to do which allows me to use my unique skill set. I love puzzles, reading, and anything that involves brain power. Working at Thrive gives me new, fun challenges to solve every day, whether the solutions be lines of code, or planning complex web projects. There are always new things to learn, especially in the fields of website design and development. My goals for the future involve obtaining more certifications in different coding languages, and earning a Google Mobile Sites Certification."
Outside of Thrive, Carolyn is a cat mom to two adorable kitties, an avid gamer, beginning guitarist, and Dungeon Master for Dungeons & Dragons Adventure League. She is also passionate about nutrition and physical fitness, and may or may not be planning her next marathon.
Fun facts:
A website she helped design and develop with the Thrive team, was once shown on Bloomberg News. (https://www.youtube.com/watch?v=ylfJHADKgEQ)
She taught a semester of Web Design I at Austin Peay State University.
For a personal book cover design project she did, she signed a media release for the book to appear on the X-Files television show.
While working with the talented Thrive team, she has had the pleasure of being part of three web projects that have won awards:
By Shea Photography
Premier Medical Group
Rivers & Spires (which sadly no longer exists, but you can see it on WayBack)