Rivers and Spires Wins National Awards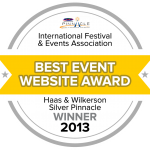 Congratulations are indeed in order! Thrive Creative Group, LLC was the design & development team behind the award winning website which took Silver honors in the Best Event Website category at the recent International Festivals & Events Association 2013 Awards held in Pittsburgh, Pennsylvania.
Thrive Creative Group, LLC congratulates the Clarksville Convention & Visitors Bureau and the Rivers and Spires committee on their recent awards and is proud to be a part of the winning team.The IFEA/Haas & Wilkerson Pinnacle Awards also went to Rivers & Spires for The Fun Zone for Best Children's Programming; Best Military Appreciation Integration; and Best Media Relations Campaign.
Sponsored by industry leader Haas & Wilkerson Insurance, the professional competition draws entries from among the world's top festivals and events.  Winning entries came from organizations as diverse as the Kentucky Derby Festival, Louisville, KY; Memphis in May International Festival, Memphis, TN; 500 Festival, Indianapolis, IN; Des Moines Arts Festival, Des Moines, IA; Cherry Creek Arts Festival, Denver, CO; Pasadena Tournament of Roses, Pasadena, CA and the Burlington Sound of Music Festival, Burlington, ON, Canada.
The IFEA/Haas & Wilkerson Pinnacle Awards Competition recognizes the outstanding accomplishments and top quality creative, promotional, operational and community outreach programs and materials produced by festivals and events around the world.  Striving for the highest degree of excellence in festival and event promotions and operations in every budget level and every corner of the globe, this competition has not only raised the standards and quality of the festivals and events industry to new levels, but also shows how event producers can use innovation and creativity to achieve a higher level of success.
Thrive Creative Group, LLC located at 139 Franklin St. in downtown Clarksville does Web Design, Brand Design and Marketing for small businesses, corporations, start-ups and non-profits.
To see the winning website, go to: riversandspires.com