In a world of shifting attention spans, communicating effectively (read:
visually
) is more important than ever!
Once upon a time, the phrase "content is king" was used to describe attention grabbing headlines, online paragraphs wrought with SEO friendly keywords and the like. While these elements are still powerful and incredibly necessary, photos are quickly gaining ground as an efficient and more successful way to quickly capture an audience. In fact, did you know that one recent study found that colorful visuals increase a viewer's willingness to read content by a whopping 80%?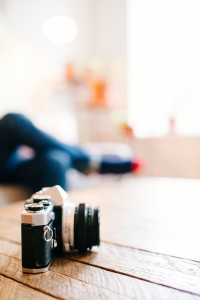 You might be thinking, "That's cool, but I'm no professional photographer." No problem! Even (likely understaffed) small businesses owners can make the most of the photo trend that does not appear to be going anywhere anytime soon. Check out these quick tips below to help your brand have a visual personality.
1) Learn to see your work space in a more creative light.
What does your business do? Are you an auto shop, a retailer, or a family owned and operated furniture craftsman? Whatever it is, a day in the life of your business is unique. What may feel old-hat to you will likely serve as an intriguing behind-the-scenes, even exclusive, peek into your industry when shared via photos. Who knows what new customers a nice snap of your assembly line process (etc.) may capture? Even a photo of staff members grabbing a bite after-hours can give prospective clients an idea of your brand's personality. Content like this also helps keep your business top-of-mind for loyal customers, keeping them coming back for more!
2) Showcase your products or services in the wild.
Before you start plastering a local wooded area with company swag, let us explain. What we mean here is, show your products or the result of your services where they live. This one might require some help from your clients, but happy customers are often happy to oblige!
For an example of this premise at work, just ask one of Thrive's marketing managers, Emily. Emily loves Franklin, TN based artist, Fine Art By DeAnn. On her Instagram page, DeAnn shares photos of her work where it lives within the homes of her clients. Peeks like this have made her art all the more appealing to our Em! She is saving her pennies for a DeAnn original as we speak!
The same principle can work for your business. Give customers an idea of how practically and organically the work you provide can be integrated into their own lives to make them want more!
3) Remember that bold is often better.
When it comes to images, don't be afraid to take a risk! Beyond being audience appropriate, the sky is truly the limit. Bold images with one central focal point are more attention grabbing. Try stark contrasts like black and white or using pops of bright colors to capture viewers. Have a creative idea for a post? Go for it! You will never know until you try!
At Thrive Creative Group LLC we are known for our beautiful website design and development. While this is a service we are proud to provide, it is not all our talented team of creatives has to offer! Reach out to us for help with marketing consulting, art direction, and online visual storytelling for your brand. Check out some of our work here, shoot us an email, or give us a call at 931-221-4991 today!