Selecting a simple E-commerce Solution for your Small Business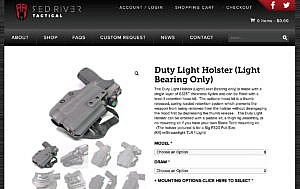 Are you a small business interested in making sales online? If so, check out these quick tips to help you get started at home! Looking for something a little more advanced? Contact us at Thrive Creative Group to learn more about a custom WordPress site with a shopping cart system today!
1. First, you need to establish a payment gateway & reader.
A payment gateway is the infrastructure that allows a merchant to accept credit card and other forms of electronic payment. For example, Shopify has a solution that includes a swipe card for any over the counter sales or in home parties. Note: this post is in no way sponsored by Shopify, we simply refer this solution to clients often and wanted to share the love!
Check it out here! They even have a cool "getting started" blog post you can read.
2. Next, you need to establish a return & refund policy.
Establishing this policy is important to protect yourself and your customers. It is a way of making sure everyone is on the same page about your return & refund practice from the beginning!
3. Setting up shipping is next: you will need a scale, printer, and labels.
The USPS has a great small business page, and you can walk into a post office and ask for advice in person. You will need to think about the weight and dimensions of what you will be shipping, so you know what to prices to charge for shipping rates.
4. Remember, you will need pictures of your products.
Use a great camera to take top notch photos. This will help you showcase and sell your products. You might also want to consider getting a lightbox to illuminate products better. Lightboxes come in a huge variety of price ranges and can be purchased many places, even Amazon!
5. Find an Email Subscribers Software that works for you.
Reaching your customers through targeted email marketing can be incredibly effective. Some examples of email software are MyEmma.com & Constant Contact. Once your account is setup, you can add an embed code to your website for shoppers to sign up to receive emails that you can customize to be newsletters, or even special sales and offers.
6. Consider Google Apps for Business.
Google Apps for Business will provide you with professional email accounts and a Google Voice Number for your new business domain. These are a must if you ask us! Again, this post is not sponsored by Google Apps for Business, we just love using this service at Thrive.
This may be the last tip, but (in our opinion) it's the most important! Your online business needs to have a professional email address and phone number. Once you have this set up you can use the same email for all social media, online accounts, and on your website. After you have established your email, you can get your free Google Voice number set up! You'll be amazed at how well they all work together.
The Thrive team recommends using an address similar to this: or
Sign up for Google Apps for Business here!
After you setup a Google Apps account, you can set up Google Voice here.
It can feel overwhelming to select and configure an e-commerce solution for your business, but it is certainly doable when you tackle the task one step at a time. If you are looking for more hands-on assistance, give us a shout at Thrive Creative Group in Clarksville, TN! We love helping small businesses make their web development, graphic design, and marketing dreams come true! Check out our work online & contact us here when you are ready to get started on a project of your own!