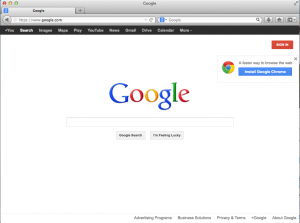 Congratulations on your new website! But still not at the top of those search engine rankings?
While we wish we could wave a magic wand to get you to top, unfortunately the only way up is with patience, hard work, and dedication. No worries though! We are great at all of those things!
Here are four tips from our SEO (Search Engine Optimization) professionals:
1. Focus
Quick, grab a pen and paper! What words are important for your business and website? Another way to ask this question is what words do you expect potential customers to search for? In the business we call these: keywords. These are the words that your website should include and focus on with pages and content.
2. Content is King
Do you have pages or posts that include some or all of your keywords? We know what you may be thinking right now:
I'm just going to add these keywords everywhere I can, and I should be fine! Right?
Wrong. You can't be a spammer. Search engines are smart! They know if you are randomly including keywords and phases in a repetitious manner across your website. Google can't be fooled. You need quality content: writing with substance that includes more then a few paragraphs on a subject.
3. Update frequently
Search engines reward websites that are updated frequently. A great way to continuously add fresh new content to your site is through blogging. A weekly blog post can help your website by not only adding quality, searchable content to your site, but can also help reach out to your customers and develop a readership.
4. Get Social!
Social media is a great way to improve your SEO. Being active on social media sites like Facebook, Twitter, and Linked-In is important to effectively dive traffic to your website! More traffic means higher rankings.
Let us help you!
Don't have time for all this? We can help! Thrive Creative Group can provide you with all the tools, tips, and social media services to guide your website up the ranking ladder. We provide quality content writing services, website and SEO audits, and social media setup and monitoring to help your business thrive!
Give Thrive Creative Group a shout, 931-221-4991 or .