Small Business Saturday started in 2010 to give small, locally owned businesses a boost of sales amidst the hustle and bustle of Black Friday and Cyber Monday. As a small business ourselves, Thrive Creative Group, LLC has some tips to help your small business have a successful Small Business Saturday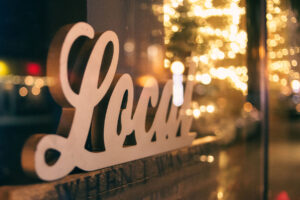 Small businesses are the heart and backbone of the economy. By supporting small businesses it helps keep local money local which benefits their town or cities economies. Small Business Saturday is also for a business owner a good chance to bring in a boost of profit prior to the year's end. So how can your business stand out this year?
Get the Word Out
Start promoting any deals or specials early and often.
Use hashtags such as #SBS and #SmallBusinessSaturday and where your business is (i.e. #Clarksville, #ClarksvilleTN, #ClarksvilleTennessee, #MontgomeryCountyTN)
Even if you're not running any deals or promotions, it's a good time to push your small business story for brand awareness.
Reinvest in Social Media
A lot of the time when small businesses get busy, their social media accounts get pushed aside, especially if they're understaffed.
Create fun and purposeful content to capture the attention of your customers and followers to generate shares and engagement.
Write engaging content and schedule your post over a few weeks.
Put money behind Facebook ads and target local consumers.
We know that's a lot of time and work on your so if you need help maintaining your social media accounts and creating content let our team at Thrive help! We specialize in social media management web design and graphic design.
Tweak Your SEO Strategy
Search Engine Optimization (SEO) is one of the most important strategies for small businesses.
SEO helps consumers find your website to learn more about your business.
To improve your chances of showing up in search results, focus on important keywords, create promotional content around those words, publish blogs with relevant keywords and content, and make sure your Google listing is up-to-date.
Need help with your SEO strategy? Again, our team at Thrive is here to help!
Extend Business Hours
Promote your updated hours on social media
Post them in your store
Update your Google listing
It takes Google some time to recognize your website so be sure to start your SEO strategy in advance. The earlier you get started on Small Business Saturday, the more successful you could be.
Want to talk about your SEO strategy, social media management, or need a new website for your small business? Contact us today by filling out our project questionnaire!