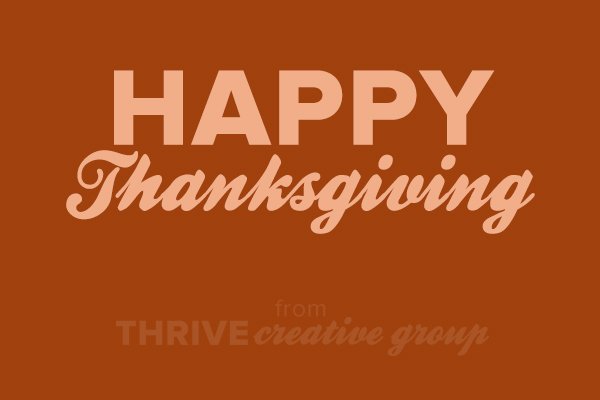 Thrive Creative Group is a workplace like none other. We are always working hard while managing to have fun at the same time, which to us is the perfect way to make work not feel like work at all. During this Thanksgiving holiday, we wanted to tell you all what all of the employee's at Thrive are Thankful for, and to introduce you to our wonderful and amazing team, both old and new:
Lorilee Rager, our fearless boss lady and Chief Creative Problem Solver and founder of Thrive Creative Group is thankful for her amazingly supportive family & friends & the talented team she hangs out with daily. She is also thankful to be bunion free this holiday season, and We (her employee's) are thankful that she truly lets us shine in all our abilities and is truly the best boss we could imagine!!
Abbey Bradley, our Account Services Coordinator and organizational wiz, is thankful to have her husband home for the holidays this year, for her fun, loving, daughter, and the rest of her family. She is also thankful for "my work family & all the friends I have been blessed with!" Lorilee is thankful for Abbey's ability to organize and keep everyone at thrive on target to get work done. Without her we ALL would be lost in a sea of projects and tasks.
Nathan Lee, our Web Development Manager and lego head expert is thankful for his freedom, education, employment, family, religion, and every breath each day! Lorilee is thankful for his ninja like skills when it comes to web development and coding skills, and without his ability and skills we would be lost!
Sarah Dusenberry, our Graphic Design Manager, and branding extraordinaire is thankful for her friends, family, and health. Lorilee is thankful for Sarah's amazing eye when it comes to design, whether it be branding, color coordinating, or typography, her ability to make all aspect come together is something Lorilee can not thank her enough for.
Briana McArthur, our other & equally important Graphic Design Manager, and resident trivia guru is thankful for family and friends that will do anything for her, being in good health, having a job that she loves, the internet, having the ability to increase her knowledge, and the people that do good things in this world. Lorilee is thankful for keen creative eye, skill for expert layout & never saying no to any new logo design or web layout project!
Nicole Hoglund, our NEW Online Marketing Manager, and content queen is thankful for her family, good health, and her amazing and selfless husband who is home for the holidays this year! She is also thankful for her wonderful new work family, and the countless new friends she has been able to make since her move to Clarksville this year. Lorilee is thankful for Nicole's amazing ability to dive right into a pile of web content like it was a pile of legos, make landing pages sore with her AdWords skillz and her magical ways to google & construct the perfect headline that makes our clients win every time!
Sam Bennett, our NEW Web Development Intern, and java script specialist is thankful for his amazing girlfriend and his new work team. Lorilee is thankful she's found this ginger jr. ninja that knows the daunting code language so, wants to work weekends & has amazing problem solving skills when it come to website repairs!
From everyone here at Thrive Creative Group, we wish you all a Happy and safe Thanksgiving Holiday!