Google reviews allow businesses to prove themselves to their potential customers and look like a trustworthy source of information to Google. Many will choose whether or not to use your services based on reading reputable reviews online. Reviews are also important for your SEO rankings.
First, you will need to create or claim a Google My Business profile and request a postcard sent with a verification code. If you're lucky, some businesses have the option to verify by email, phone, or Search Console. Postcards can take up to 14 business days to arrive, but once you receive it, enter your code they provided, and you're verified!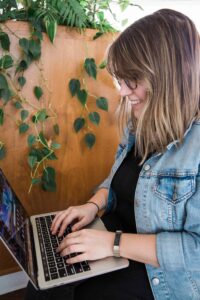 Once your Google My Business profile is complete, put together an active strategy to collect reviews. Google My Business will give you a link that you can customize that brings customers directly to where they can leave a review. Thrive recommends adding the link in email signatures, printed on business cards or appointment cards, on your website, and posted in your office to encourage customers to write a review. Ask your friends, family, and happy customers to review your business. 
Some of the benefits of receiving customer reviews are
To better understand what you're doing right or wrong

Improve the visibility of your business on Google

Collect testimonials to use in marketing your business
The one downside is negative reviews. However, it helps if you respond to them. You should reply to all reviews, good or bad because it shows you took the time to read it and respond. This could indicate to potential customers that there are real people behind the business and hopefully trust your products or services. Be sure to never pay for reviews as it's against Google's terms of service, and if they find out, it will harm your ranking. 
Google reviews aren't only beneficial for your business, but they are also important for your SEO rankings. Google strives to deliver the most beneficial and relevant results for local searches, so they not only want to know what your business does but how it is perceived. The quality and quantity of Google reviews are one of the most important ranking factors for local SEO.
When businesses have customer reviews, it presents greater credibility and generates more clicks. It also makes it easier to find your location. The higher you get on Google's search results, the more likely people will click on your website. Quality reviews help drive your search rankings.
Need help getting Google Reviews or setting up your Google My Business profile? The Thrive marketing team can help! Contact us today by filling out our getting started project questionnaire.