Website hosting can be really confusing. How does it all work? What's the difference between a domain and web hosting? Which type of web hosting? There are many factors to consider.
We'll go over the basics and what we use for website hosting!
What is web hosting?
A website lives on a server. A server is a powerful computer or program with dedicated resources for specific services. A server dedicated to web hosting usually consists of a web server and a database server. The web server and database server are actually software programs that handle the behind-the-scenes action of a website.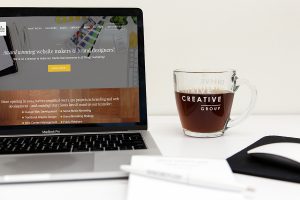 A web host provides server space for the site files, such as text, images, videos, etc. When you enter a URL into your web browser or click on a link on a web page, your browser makes a request to the web server. The web server receives the request and serves up the correct files for the web page — order up!
What is a domain?
A website has a number address known as an IP address. This is a series of numbers separated by dots, such as 72.233.56.138. IP addresses work fine for computers to identify a website, but it's not so great for humans. What? You didn't know the IP address above was WordPress.org?
Domain names are used for this reason. A domain, or domain name, is the name address of a website. It's what people type in the URL bar in the browser to go to your website. So, instead of typing a string of numbers and dots to visit your favorite websites, you can simply remember the domain name!
I have a WordPress site? What type of hosting do I need?
There are a few hosting requirements in order run WordPress. All of which Thrive meets! From WordPress.org, it's recommend the host supports:
Thrive Hosting
With Thrive, you get professional-grade VPS hosting. A VPS is a Virtual Private Server. A virtual machine is a virtual server running on a physical server. So, a physical server can have multiple, separate virtual machines. These virtual machines can be set up as web servers to host websites.
Our VPS is stable and powerful. With the speed and reliability of solid-state drives (SSD), we have a 99.99% uptime. It's no slouch in the power department either — our sites can be served up lightning quick!
Our hosting is tailored to provide your WordPress site everything needed to run smoothly and produce the best user experience. We also offer additional services including website security monitoring, website backup services, WordPress core files and plugin updates, site functionality testing, and contact form delivery testing.
Looking for web hosting? We can help! Whether starting fresh or you already have a website, we can get you set up with our powerful and reliable web hosting.
---
Call Thrive Creative Group, LLC at 931-221-4991 or get started here >>