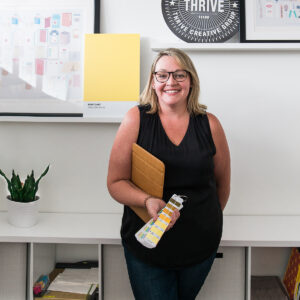 Lorilee is the founder of Thrive Creative Group, LLC. She earned her Master's degree in Graphic Design at Vermont College of Fine Arts, in Montpelier, Vermont, and her undergrad Bachelor of Fine Arts in Graphic Design from Austin Peay State University in Clarksville, Tennessee. She is also a Visiting Assistant Professor of Design and active alumnus in the Art and Design department today at APSU, and regularly attends workshops with her cherished VCFA cohorts and advisors to learn and research more about the true history of Graphic Design.
She also hosts her own Podcast Ground And Gratitude where her passion lies in understanding the pressures and responsibility of Graphic Designers to the world, and how to build a safe space where a creative career and life can align honestly and authentically. As an HSP and Enneagram Type 9 she's a creative, optimistic, and supportive leader. Lorilee's also a writer and mom to two super great boys. As well as a lover of her sobriety, bulldog, coffee, and chapstick.
BEFORE THRIVE
Lorilee has oodles of experience in business, marketing, and design from all sides. From the rural roots of growing up on a large-scale family Kentucky grain farming operation to right out of college, she began working in sales and marketing at Ethan Allen Furniture. Then, as a Graphic Designer at a local advertising agency. Lorilee then moved on to Gaylord Opryland Hotels in Nashville, TN as a Graphic Design Coordinator and later moved up to the Gaylord Hotels corporate marketing team as a web designer.
During her early career, Lorilee was also becoming an entrepreneur. She started Thrive in 2004 from her dining room table just before welcoming the first of two sons into the world. Back then, all the magic happened late nights with strong coffee! Thrive has since grown into award-winning website development, graphic design, and marketing firm with an incredible creative team of 8 hard-working kiddos. (9 if you count Emma, the office Frenchie!)
PASSION AND CREDENTIALS
"Find out who you are and do it on purpose!"
-Dolly Parton
Lorilee channels her inner Dolly with her love of creativity, compassion, and giving back. She is involved with several community organizations in Clarksville. Lorilee is a Leadership Clarksville graduate and currently serves as an Executive Board Member. She is also a member of the Clarksville Chamber of Commerce, Madison Street United Methodist Church, and a past board member at the APSU Acuff Center of Excellence. She also supports Austin Peay via scholarships, internships, and lectures. In 2018, Lorilee was the first recipient of the Mann Distinguished Alumni Award for Art and Design at her alma mater. Lastly, she's a proud member of AIGA, the professional association of design.
PERSONAL LIFE
In her personal life, Lorilee enjoys writing, drawing, warm cups of hot tea, strong cups of coffee, her weighted blanket, and being a mom. Be sure to follow Thrive on Instagram for new work, office fun, and cute photos of her pup, Emma. If your business would want to work with us, schedule a meeting with Lorilee and the Thrive marketing team today.
Podcast: GroundAndGratitude.com
Tweet: @LorileeThrives + Email: