What is branding?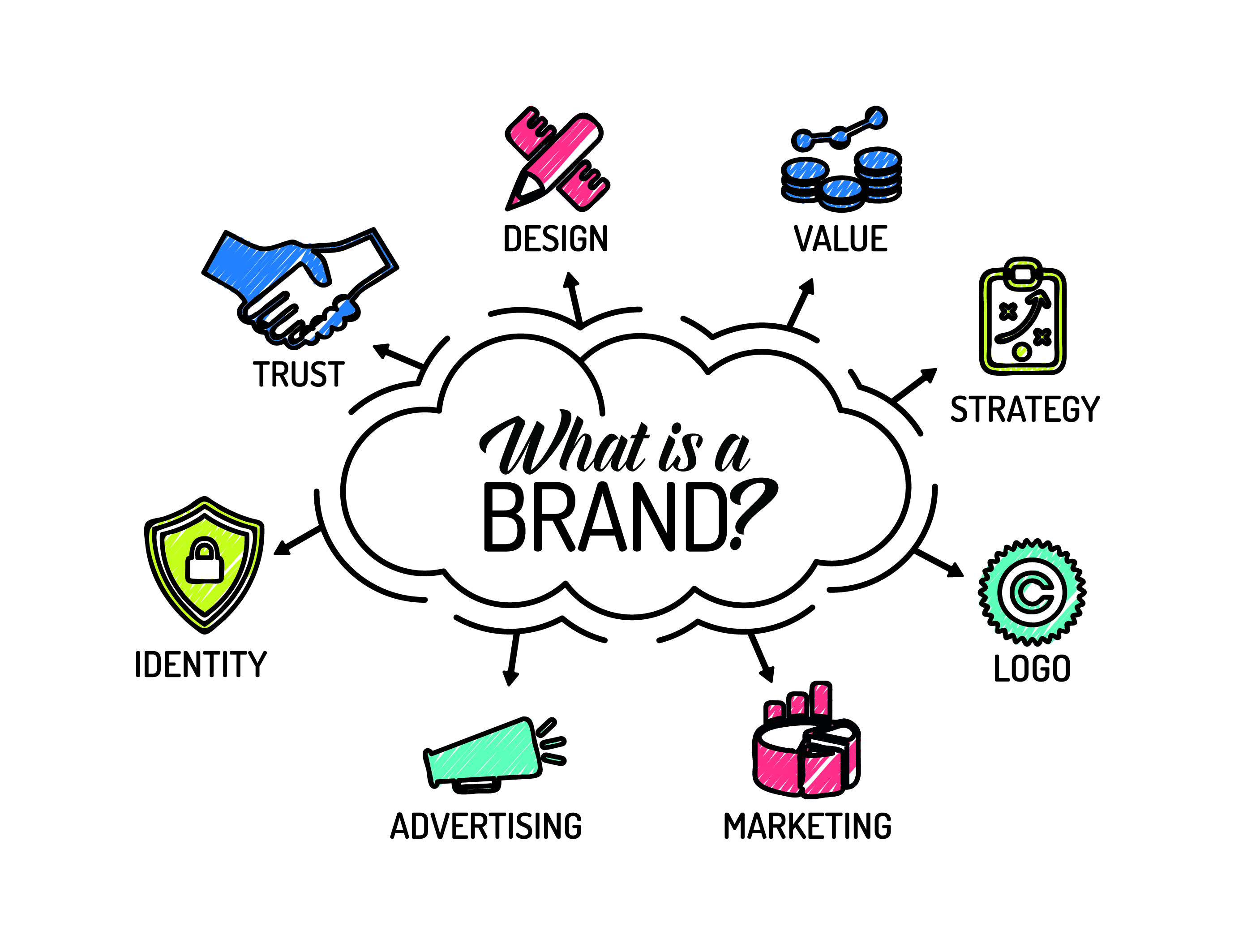 Many of our amazing, small business clients ask us about branding.
So what better way than to put into a blog. Here is our explanation of the difference between branding and a logo.
_ _ _ _ _ 
A logo by itself is not branding, and you cannot take off branding your business without a logo. Am I confusing you enough yet? Ha!
Logo: a symbol or other design adopted by an organization to identify its products, uniform, vehicles, etc.
A logo is a mark, an emblem, a piece of your brand. So say we are working on branding your new startup or small business. It's only one piece of the awesome puzzle! Branding has many different roles that come together and form an overall perceived look for a business or product.
Let me be clear, a logo is not our brand. A logo is a piece, that must be included over all the elements down to items like:
Invoices

Packaging

Ink Pens

Stationery
Basically, all items that your customers see and take home with them. All of those pieces together are your brand!
---
Branding: the promotion of a particular product or company by means of advertising and distinctive design.
Branding becomes a part of every single element of your business. It starts with a logo, and continues with consistent look into your
Business cards

Facebook cover photo

Company tee shirts

Wall colors inside your building

Lettering on the door

Your sign out front

Lettering on your vehicle

And so much more!
Well, you get the picture! To keep it simple, here's a list of a few quick ways to understand what the heck we mean when it comes to branding vs. logo design.
---
What branding is:
Branding is the perceptions of your audience

Branding is the personality of your business

Branding is the foundation of your marketing

Branding is a reflection of your company values and what your business stands for, believes in, and why you exist.
What is a logo:
A logo is a mark

A logo is colors

A logo is fonts and distinct typefaces

A logo is flexible to be square, horizontal, vertical, a stamp, a seal, one color and full color, look great as big as a billboard and as small as on a business card!
When we do logo and brand development to create a full branding toolbox for our clients it is FULL of great and awesome things! Some of the graphic design assets we create are:
Logo – The symbol of your brand

Full Color Design

One Color Design

Horizontal Design Layout

Vertical Design Layout

Stacked Design Layout

EPS Outlined Vector Files (for embroidery)

PDF – High & Low Resolution (for signage & print)

JPEG – High and Low Resolution (for online & social media)

PNG – Transparent (for powerpoint and color backgrounds)

Stationery – Business cards, Letterhead, envelopes

Note Card/Thank you Card Design

Print Ready File setup

Digital Letterhead

Social Media Platform Profile Image and Cover design
Additional items you can also consider for your branding are:
Marketing Collateral – Flyers, brochures, postcards

Website Development – Brand photos, blogs, events, PDF downloads

Social Media – Instagram posts, Facebook contests

Packaging – Tissue paper, stickers, and bags for products

Apparel Design – Shirts worn by employees and are great for giveaways

Signage – Interior & exterior design

Banner stands – For events and open houses
We partner with our clients, and help them understand that all things that visually represents their business must be branded!
Whew! I mean have you had fun reading this or what? If you have, enjoy a few more past blogs we've written about our love of branding here:
Photography Tips For Social Media Marketing
Need a new brand or to refresh your existing brand or logo? Give us a call at Thrive Creative Group right here in Clarksville, TN! If phone calls aren't convenient, you can also contact us online. We would love to tell you more about our custom brand design, along with all of the other services we offer. We're ready to help your small business thrive!