We understand! Here are a few tips on what you should be doing… and if you're stressing, let us handle it for you!
To have an effective social media presence, this is what you need to do weekly: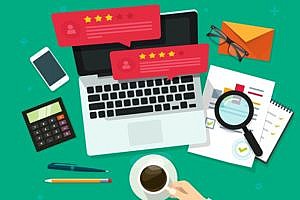 Post 3 times to Twitter
Post 2 times to Facebook
Post 3 times on Instagram
Respond to direct messages
Monitor your competition
This takes up a good chunk of your valuable time we know! At Thrive, we take the guesswork and the stress out of making your business look and sound great on social media so you do not have to worry. Each month we send you a content calendar for the upcoming month.
We like to call this content calendar a "flight plan" and it includes:
Monthly Content – A schedule of day by day suggestions for your social media posts including the scheduled date and time your post will go out.
a. We know what media works best (i.e. Facebook, Twitter, Instagram, etc.) and what times work best to get you the most views for your business.
Trending Holidays – It is our job to stay on top of upcoming trending holidays that can help give your business some relevance and highlight your awesome employees (i.e. Boss's day, Management Assistant's Day, etc)
Custom, Branded Graphics – Watching for major national holidays so we can design custom branded graphics with your logo and personal message about that day to show your audience you care is an on-going task for our team.
Review Monitoring & Responses – Our team monitors customer reviews, comments, and questions and work extra hard to always respond in a way that sounds like your business brand, and make sure to be extra friendly and helpful so your customers always feel taken care of and happy.
Competition – We like to keep an eye on your industry competitors local and nationwide to make sure we are tracking anything they are marketing, so you sound and look unique and like the expert in your field and not just be a copycat from what your competitors are doing. Giving you your own voice and keeping your business ahead of the social media game.
These are just a few of the many creative ways we manage social media marketing for our small business owners. If you'd like out help give us a call at 931-221-4991 at Thrive Creative Group!