The key to a productive work day is staying organized!
We may be biased, but we like to think that we have the best clients around. They allow us to work on awesome graphic design, web development and marketing projects every day. Each brand has its own personality and our creative juices overflow as we help those personalities come to life.
As you can imagine, all this cool client work means a crazy long to-do list. The key is to stay organized and take charge of your day to get the job done! Each team member at Thrive accomplishes this by using helpful planning tools.
Check out this list of some of our organization favorites!
Day Planners
Sometimes it's hard to beat a good ole pen and paper day planner. "They" say that physically writing things down helps you remember them better. If this method sounds like you, you may enjoy some of our hard copy planner favorites.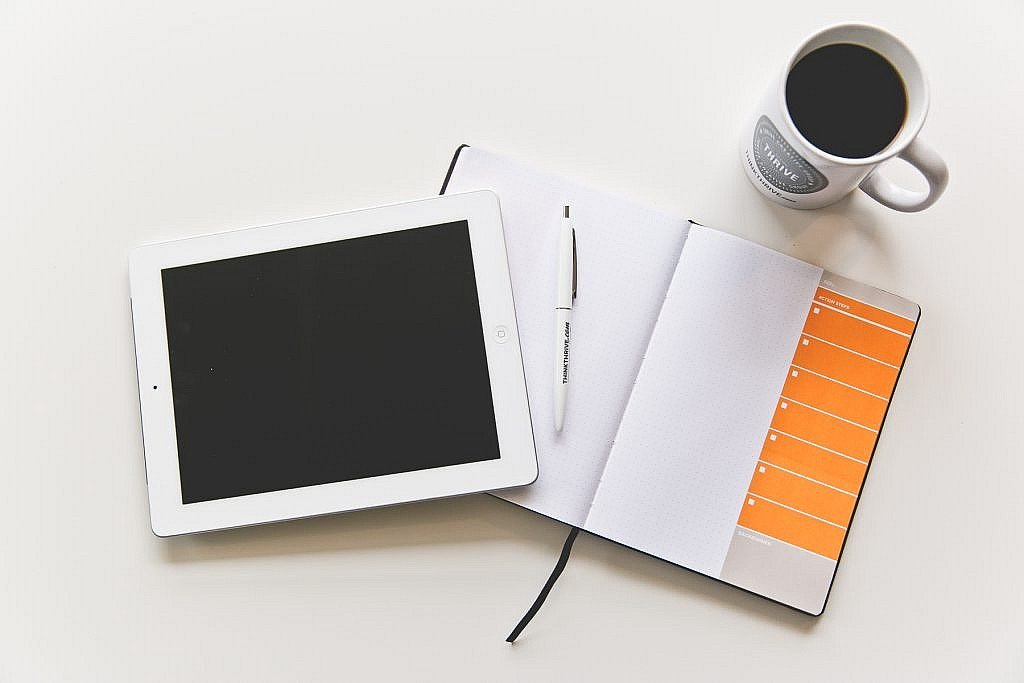 Passion Planner
Passion Planner's clean design, "helps people break down their long and short terms goals into more actionable steps and gives them a place to incorporate these steps into their daily lives." Added bonus: for each planner sold, they also give one away to people or organizations who need a great organizational tool like this, but can't afford one.
Day Designer
"…through a simple, guided framework, [Day Designer can] help you figure out a focus for intentional living." It doesn't hurt that these guys are also super cute! They even have free daily printables on their website for you to try before you buy. Pretty cool!
LifePlanner by Erin Condren
If you are in need of a tool that will help you with detailed daily planning, the LifePlanner could be a great option for you. This planner has days outlined down to the hour, leaving plenty of room to sketch out specific goals for each portion of your day!
Apps
Many of us at Thrive rely on good our Apple or Google calendars to help organize our weeks. If you are looking for a digital options that goes more into depth, give one of these a try!
Fantastical 2 for iPhone
Fantastical 2 is a handy calendar app that seemingly has it all. This award-winning app features a lovely week design, natural language parsing and reminders. It can even help you keep track of the locations of your events each day.
Evernote
We really love the sleek design of Evernote! This app helps you keep up with to do lists, calendar events and reminders. It will sync all this information to your phone, tablet and computer automatically so that it's all easily accessible when and how you need it!
Wunderlist Alternatives
Wunderlist was a favorite app to help keep our to do's and reminders organized, however, they, unfortunately, have since shut down. This article highlights 11 different alternative apps that are similar and offer their own unique features.

Does your situation call for a more cut & dry notebook or paper list? Well we have a recommendation for you, too! Action Books like these can be found all over the Thrive office. We especially love to use them during our project meetings as we outline the action steps to take to get our tasks done!
Is your to-do list feeling overwhelming…beyond what a planner or app can help reconcile? We would love to help! Contact us to learn more about making Thrive Creative Group a dedicated resource for all things web, marketing and design. Let us focus on our specialties to free up more time for you to focus on running your business! Give us a call at 931-221-4991 or fill out our Get Started form today!