When it comes to your website, graphics and photos can make a huge difference to how your customers view your brand and improve your SEO.
At Thrive Creative Group, with our website design and development, we include 5 stock images because often, small businesses and start-ups do not have photos just yet for their new business marketing plans. Below are some tips on how we help our clients choose the right images.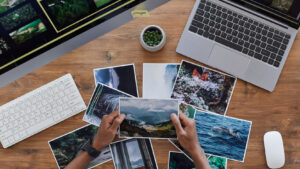 Most people like a website because of its functionality, interactivity, information it offers, and design. You have heard the saying, "A picture is worth a thousand words," and well, that's true when it comes to choosing the right photos. Visuals have always been a powerful means of communication, so here's how to choose the right images for your website.
Resize larger images
Images take up roughly

63% of the bandwidth

used by websites, so it's important to optimize them for speed.

Having just a one-second delay in page load times could decrease conversion rates.

Always resize (in this case, downsize!) the photo to the required dimensions before uploading. 
Relevant images
Every image on your website needs to be relevant and have a specific connection to your brand and goals.

Stock images are easier and cost-effective; however, hiring a professional photographer to capture photos of your staff and products is always better.

A photographer will also supply professional, customized, unique, high-quality photos compared to amateur photographers.
Optimize images for SEO
Before uploading to your website, rename your files to be easily indexed by search engines. THIS IS SO IMPORTANT WE ARE SAYING IT IN ALL CAPS 🙂

For example: "thrive-creative-group-website-design" instead of "Screen Shot 2021-05-26 at 10:24am" – Google loves good file names!

It's best to be consistent, avoid punctuation or spaces. Hyphens work better than underscores and help SEO.
Showcase real people
As a small business, it helps to use photos of real people (and pets!) instead of stock images.

Use images that make your brand look authentic.

Visitors to your site want to believe that these are photos of real people associated with your business.

Again, hire a photographer to take photos of your staff in action to show there are real people behind your brand.
At Thrive, our design team works with you to create the best images for your website. Our marketing team makes sure all images are uploaded to be SEO friendly, and our web developers make sure your website is always functioning correctly.
Need help with images and graphics for your small business's website? Or need a new website? Contact us today by filling out our project questionnaire!