A well-developed website is critical to the success of your small business. Our team at Thrive specializes in website development so here's how we can help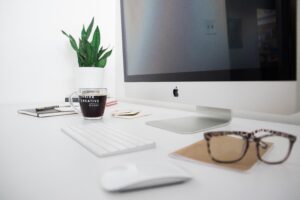 Your website is a vital piece of marketing and branding for your small businesses. Visitors search for and visit your website for specific reasons, and you want to ensure that you are providing the ideal place for them to successfully buy from, learn about, or contact your business. Running your own small business doesn't mean you automatically know how to design a great website! That's why our incredible website designers at Thrive are here to help.
Don't skip a responsive design
A responsive website is designed to adapt to whatever device you use to view the site. That means you get the same website experience whether you are using your desktop computer, an iPad, or your phone. Websites that aren't responsive are proven to show up lower in Google searches and provide a fractured experience to customers, most likely turning them away from your website.
Flashy isn't always best
You want your website to be easy to navigate and if flashy elements make it harder for people to find what they are looking for, then it's not very easy. Remember that mobile phones account for a huge portion of any website audience. If a flashy feature doesn't work on a phone, it's not working for your small business! Our team will create the perfect website tailored to your brand 
Well-made websites are an investment for any business and especially small businesses and local entrepreneurs. Don't make common mistakes that can cost you the potential revenue that you could be making from a well-designed, properly functioning website. Let our team at Thrive help your small business reach its potential.
Don't believe us? Check out our reviews & find us on DesignRush as one of the Top Web Designers!
So, are you ready for a new website? Let's get started on your project today!