Email marketing is an effective way to grow your small business, but it can be challenging. Here are 5 tips on successful email campaigns.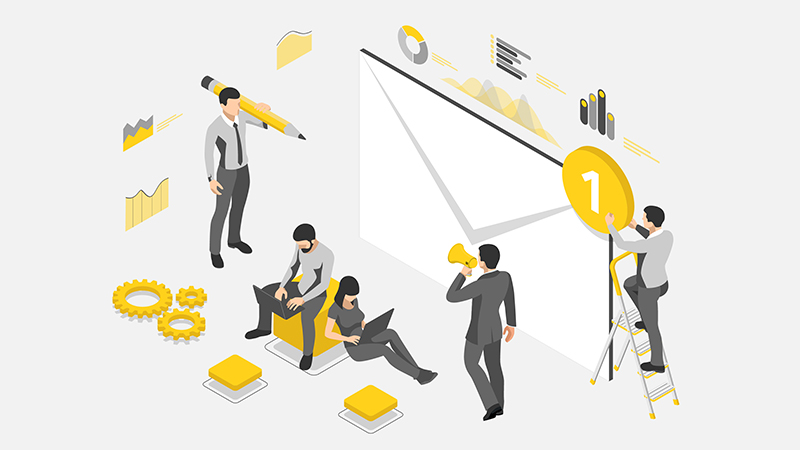 1. Choose an email platform
Email marketing platforms the Thrive team recommends are

Pros

Wide variety of templates

Ease of use

Affordable pricing

Cons

Limited customization and flexibility for advanced users
Emma
(formerly MyEmma)
Pros

Mobile-optimized templates

Non-profit edition

Advanced automation

Cons
To learn more about which platform may work best based on your needs, check out this comparison of the two.
2. Build a targeted list
On average, 80% of your website visitors will leave your website without signing up for your newsletter. What are some ways to capture email addresses directly from your website?
Use an Exit-intent popup. These detect the user's behavior to prompt them with a targeted campaign right as they're about to leave your website.

Set up a subscription form via your website, social media platforms, or even paper sign-up sheets in your store.
Be cautious of how much information you ask for them to submit, as too much may deter them away.
3. Good subject lines 
The subject line is the first thing your audience sees. What will help drive your audience to open your email?
Make it attractive – Be truthful, but also appealing. Include numbers and action words. For example, Instead of "How to Get More Email Opens" write, "3 Ways to Maximize your Email Open Rate."
Keep it brief – headlines are meant to grab attention, so make sure it's not too lengthy.
Make it personal – If your email marketing platform has the opportunity to address your database directly, include their name in the headline.
Be careful when using emojis – do emojis meet your brand? Don't just add an emoji because you think it will grab the reader's attention. Check out some additional tips when it comes to using emojis

here

!
4. Time and frequency
It's recommended that you experiment and discover what time works best for your audience.

According to

Blogging.com

, the top engagement times are between 8 am-10 am or 3 pm-4 pm.

There's no rule on how many emails you should send out a week, month, etc. Just watch your unsubscribe rate (explained below), to see if your strategy is working in your favor.
5. Track performance
What should you look at when analyzing your emails to improve on future sends?
Open Rate – A low open rate may mean your headline is too generic or irrelevant to the reader.
Click-to-Open Rate – This tells you how many of your contacts not only opened your email but also clicked on your call to action. If your CTR is low, it means your message may not be targeted enough, or you're simply not getting your message across.
Unsubscribe Rate – Pay attention to how many people unsubscribe. If there's a sudden increase in unsubscribes, make sure you're only sending relevant information to your audience.
Bounce Rate – If your bounce rate is high, that means you could have the wrong email addresses.
Email marketing is just one of the strategies that our Thrive marketing team can help! If you need a talented and dedicated team of experts to help you get your email marketing campaign off the ground, contact us by filling out our getting started project questionnaire today.