The last few months have been a transition period as people have gone from working full-time in an office to working in the comfort of their own home. It seems likely that more people will continue working remotely for the upcoming months or even permanently, so what does this mean for marketers and small business advertising?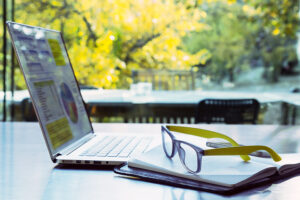 With fewer people commuting into the office, traditional marketing strategies such as billboards, radio ads, etc., are no longer the best way to get in front of your audience. It's time to focus on other marketing strategies, primarily digital ads. Here's what the marketing team at Thrive recommends.
Facebook Ads
Facebook ads are an easy way to capture your target audience, not to mention they're affordable. You set the budget at the beginning of your campaign, and Facebook will stop showing your ad when you have reached that amount. Meaning, the higher your budget is, the more audience you will reach. You can also target specific users as well as retarget users who have visited your website, used your mobile app, or even given you their email address.
Google Ads
Google Ads is a great way to build awareness and has a massive reach with over 5 billion searches per day. There's something for all businesses, small or large, with different budgets and goals. It's a great way to strengthen your brand because even if potential customers aren't clicking your ads, they still see your brand, tagline, what you're offering, etc. You have full control of your budget, and you're not just advertising to anyone, you're targeting people who are looking for something specific. Bonus – Google does a great job of giving you daily recommendations on how to improve your performance.
Advertise on Pandora or Spotify
Both Pandora and Spotify offer advertising opportunities on their music streaming apps. On Pandora, you can reach your exact desired audience, and your ad will be woven into the listening experience during transitional moments. They offer display banners, audio, or video ads. Spotify allows you to use content targeting to reach users with particular tastes or habits that align with your target audience. Spotify offers audio, display, and video takeover ads on mobile devices or desktops. If you're like some of us here at Thrive who need background noise while working, these are two good options to target your audience.
Geofencing
MarketingGeofencing marketing is location-based marketing that lets you advertise to users based on their location. You can connect with smartphone users in a designated area, such as a store, or at home, through mobile apps or mobile web pages. You also create a virtual fence around the geographic area you choose, meaning anyone with a smartphone who enters that perimeter, or enters and leaves, will get added to your audience and receive your ads for up to 30 days. This is perfect if you're looking to target specific neighborhoods where your business is located.
Direct Mail
Direct mail involves sending a physical postcard, letter, brochure, etc. to your prospects and/or current customers. It's proven to have better response rates than email marketing because 76% of people trust ads they receive in the mail. Companies even offer mailing lists you can buy to reach other prospects.
Email Marketing
Email marketing targets your audience and customers to boost conversations and build relationships through personalized engagement. It offers better ROI than direct mail because it's much cheaper to send emails. You can use email marketing to generate leads and market your products. Check out our latest blog on email marketing. We love Mailchimp at Thrive! 😉
The Thrive marketing team is here to help you with any of the above marketing strategies. If you need a talented and dedicated team to help you get your marketing strategies off and running, contact us today by filling out our getting started project questionnaire. And check out our fearless leader's favorite things  that have made working from home easier!