Thrive Creative Group was recognized as a Top Web Developer in Clarksville, TN, according to Expertise.com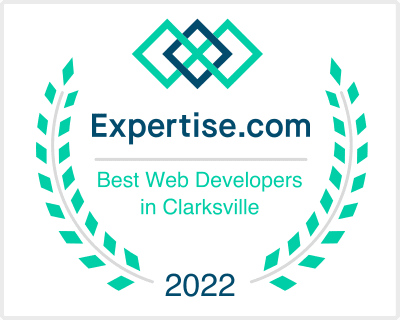 Out of 20 companies reviewed, Expertise.com ranked Thrive Creative Group as one of the Top 4 Web Development Companies in Clarksville, TN, receiving an A+ reputation. The ranking was determined by the following
Availability – Consistently approachable and responsive, so customers never feel ignored
Qualifications – Building customer confidence with licensing, accreditations, and awards.
Reputation – A history of delighted customers and outstanding service.
Experience – Master of their craft, based on years of practical experience and education.
Professionalism – Providing service with honesty, reliability, and respect.
Lorilee Rager, Founder and Creative Director said, "Being recognized as a top web developer in Clarksville is testament to the dedication of our incredibly talented team here at Thrive Creative Group. I am so honored to lead this amazing group who continuously pour their expertise and top-notch quality standards behind each project."
Thrive Creative Group is a multi-award-winning custom website design and WordPress development company. We carefully design and develop custom, unique WordPress websites to fit your small business needs.
Our goal at Thrive Creative Group is to create websites that professionally represent small businesses since their websites are constantly communicating for them. While well-made websites are an investment for any business and especially small businesses and local entrepreneurs, having a well-designed, properly functioning website will help your small business look great and appear consistent on all devices.
Thrive offers a variety of services related to website design, website development, and website maintenance. We are a professional website design and development company with a long client list of small businesses, nonprofits, and more. We have created functional, responsive, stunning websites to help businesses grow by enhancing their online presence through detailed planning and proper execution of a new website design.
You dream it, and we build it. Let's get you the website your small business deserves. Contact us today by filling out our project questionnaire.