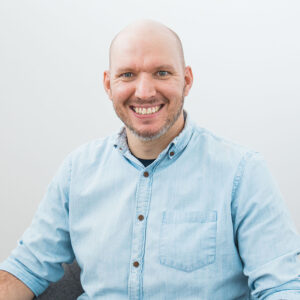 Seth is a key member of Thrive's talented Graphic Design team! Originally hailing from Melbourne, FL, Seth earned his Bachelor's Degree in Graphic Design right here in Clarksville at Austin Peay State University, where he won the Philancy Holder Graphic Design Award at the 48th Annual Student Juried Exhibition.
A man with many talents, Seth enjoys screen printing, bookbinding, stencil art, and archery. Referred to by many of his friends as, "Mr. Potential", Seth takes care to always notice the great potential in his surroundings. This is a skill we are excited to see him put to use for our clients and our own team on a daily basis.
Some other cool facts about Seth: he and his lovely wife Melea are the proud parents of Alex and Camden and they have a Beagle named Vaeda. We are proud to have Seth as another creative addition to the Thrive team!